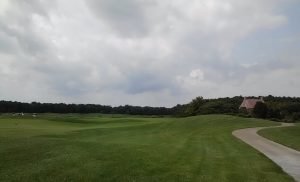 The property now known as Rum Pointe Seaside Golf Links has a rich and storied past as evidenced by its name, which it takes from the peninsula of land that extends out into the bay behind the sixteenth tee.
Legend has it that from 1696-1717, Captains Kidd and Blackbeard, two of the world's most famous pirates, frequently sought shelter behind the barrier islands of Assateague. From the waters of the Sinepuxent Bay, they brought treasures of all kinds ashore.
Although no buried treasures were found during construction of the golf course, lengthy archeological studies trace a long history of activity at Rum Pointe. Remains of seven Native American cultures were found at several locations on the property. Large shell middens have been preserved in the wooded area to the right of hole #12 and along the creek to the right at #15.
The two-story, stucco brick house at the left of the #6 fairway is one of the few pre-Revolutionary War dwellings in Worcester County. Remains of several other buildings, including a small dairy, are scattered around the site. Captain Charles Radcliffe is credited with building the house around 1740, and it was the main dwelling on a large working plantation of 2200 acres that raised tobacco, corn and wheat, merchandised local timber products, and processed animal skins from their livestock. The Radcliffe plantation remained in family hands for several generations.
Local lore has it that British troops came ashore during the Revolutionary War in an attempt to conscript locals for their cause. When one of the Radcliffe sons refused, he was hung from a tree, and he is said to still haunt the property. Dozens of locals will verify moving pictures, mysterious lights and loud footsteps late at night.
The property has changed hands on a couple of times in this century, and in 1969, the National and State Park Service acquired a portion of the farm adjoining Maryland Route 611 to build support facilities for their Assateague Island operation.
In 1994, when the Ruark family developed Rum Pointe, they agreed to transfer another 100 acres of this property to the Park Service for further expansion, as well as for the preservation of the Radcliffe house. The old farmhouse will eventually be restored and opened to the public. Most of the balance of the farm was put into a conservation easement allowing only for the development of a golf course.
World renown golf architects, Pete and PB Dye were hired to create a world-class golf course while still preserving the natural beauty and historic significance of the property. The events of the last several years will ensure this property's continued access and enjoyment by the public.